With the 100th anniversary of Scott's dash for the South Pole running into this year and Shackleton's own
Endurance
anniversary looming, there's been a spate of documentaries on recently about Polar Explorers on the last continent. V. useful indeed for a
Polar Poet
, especially when they send out a celebrity/ explorer like
Ben Fogle
to present to camera. Suddenly I can see the texture of the ice, like ropes of sheer glass, running down the
Beardmore Glacier
. I can learn what pemmican looks like or what the body does when there is no more fat to burn. And I can take a virtual tour with the amiable Fogle into the darkness of a wintering Scott Hut - almost touch those ancient packs of Colman's Mustard and rusty tins of Real Turtle Soup ...
Last week's programme,
The Secrets of Scotts Hut
, was absolutely fascinating and raised many pertinent questions about both polar exploration and polar archaeology. Can we (or rather the New Zealanders) justify spending millions on painstakingly removing and preserving the 100s of artefacts from Scott's Hut, only to place them back in that same environment in which they are rotting - especially when only a handful of people will ever see them there? Though he might have made more of the burgeoning tourist industry which makes an ever greater imprint on Antarctica's 'pristine wilderness' - an appetite which Fogle's programme can only further whet.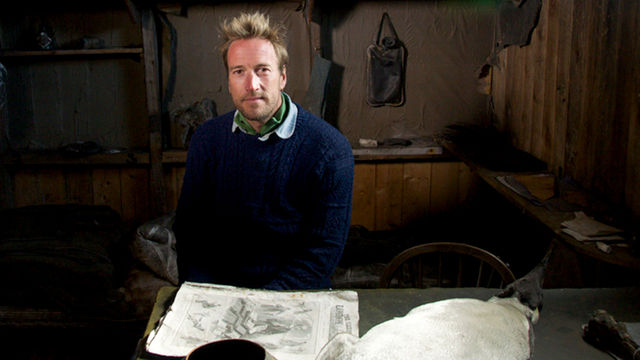 Sir David Attenborough
made the case that Scott's Hut is an essential historical marker of
'the human spirit'
and its quest to journey into the unknown. I can see what he means if we read polar exploration in the light of millennia of human migration and colonisation of the globe. They were conscious, this Brotherhood of the South, of stepping onto the last uninhabited continent - as it then still was.
'The white edge of every map'
as one of my poems has it. But pick up the
diaries
or the mission statements and it's clear their endeavours need also to be read in the more immediate context of turn-of-the-century European Imperialism - the same Scramble for Colonies that ushered in the First World War. Fogle was very struck by the wall of packing crates Scott erected between officers and men - a powerful metaphor for the class politics they unloaded along with the corporate sponsored foodstuffs onto the ice.
So Fogle was raking over the conflicting myths of
Scott
- a heroic leader who inspired undying loyalty - or a failed explorer whose obsession with beating first
Shackleton
then
Amundsen
led him to sacrifice his men's lives. Reading Scott's private diaries revealed a man of great tenderness and passion and his own photographs showed men pulling together to drag sledges across the vast
Ross Ice Shelf.
But any comparison with Amundsen makes Scott's party look ill-equipped and wantonly amateurish. On the other hand, Fogle's documentary shows how Scott's hut was packed to the rafters with scientific research materials and examples of the latest technology. Unlike Amundsen - or Shackleton - Scott took the science very seriously and his team amassed considerable data that contributed to the study of climate change for instance.
All key questions and debates. At the end of the day, I'm always drawn back to asking what were they really doing there? Why did they go? And why jeopardise all that was going on at
Hut Point
for a desperate dash to plant a flag in a wilderness? Theirs is such a very different endeavour from indigenous arctic peoples who never felt the need to stake such claims and who learned to be completely at home in
their
polar wilderness. From the opposite end of the century, we are still reassessing the myths. But the fascination of that frozen hut, heaped with the debris of Edwardian gentlemen explorers, remains irresistible and unarguably poignant.