I don't usually review publishers on this blog but why not? An innovative bunch of bibliophiles like
AngryRobot
are well worth celebrating and with their reader-centred, geeky passion, they are quietly changing the landscape we all write and publish in. Angry Robot is the brainchild of
MarcGascoigne
, its MD, who on Thursday last regaled
LeicesterWriters' Club
with tales of life on the inside of the machine. Formerly peddling genre books to '
spotty 14 year old boys'
in
Warhammer
shops, his success in this niche led to the publisher giant
HarperCollins
approaching Gascoigne in 2009 to '
come do something innovative for us
.' It's to his credit he knew exactly what he wanted when that offer came knocking. Angry Robot's mission was to break out of the mould of '
books with spaceships or wizards on the cover
', as their mission statement says:
'To the new generations of readers reared on
Dr Who
and
Battlestar Galactica
, graphic novels and
Gears of War 2
, old school can mean staid, stuck in a rut. "Crossover" is increasingly the way forward and you'll find plenty of it here … if there's an energy in a book that gets us jumping up and down, we're all over it.'
So far, so good for sci-fi/fantasy fans – but what about the rest of us? Gascoigne's business plan also intended to shake up the prevailing mode of publishing.
'Corporate monoliths
', move over – '
we're hobbyists, fans, geeks, nerds
' – the people behind Angry Robots
are
the readers as much as they are the producers and marketers. For geeks, read 'people with a passion for sharing stories'. They therefore proposed a 'menu of formats' that includes
Physical paperbacks, Limited run special editions in leather or hard-covers, eBooks, Downloadable audio
and release of the text in all of these formats simultaneously. I lost track of the plot twists he related around ownership and sell-ons with the publishing giants but they still have 'partners' in
Faber
and
RandomHouse
and the mission is intact. An example of their reader-friendly approach is their current offer of the Angry Robot
Clonefiles
programme;
'
a growing number of indie book shops in the UK and the US are able to offer their customers both the paperback and eBook version ... for just the price of the paperback. So you can buy the ebooks for yourself and give the paperbacks to your friends and loved ones as presents
.'
See? They get that readers enjoy both the physicality of a well-produced paper copy and the convenience of e-readers. And they know that part of the pleasure of reading is
sharing stories
. This is especially true of the genre they deal with where typical readers get through dozens of books and tweet and blog about them, in between running up costumes for another steampunk convention or trying out the last game. (These are the same fans who kept
Dr.Who
going through the dark, wasteland years by writing their own fanzines and novelised episodes.)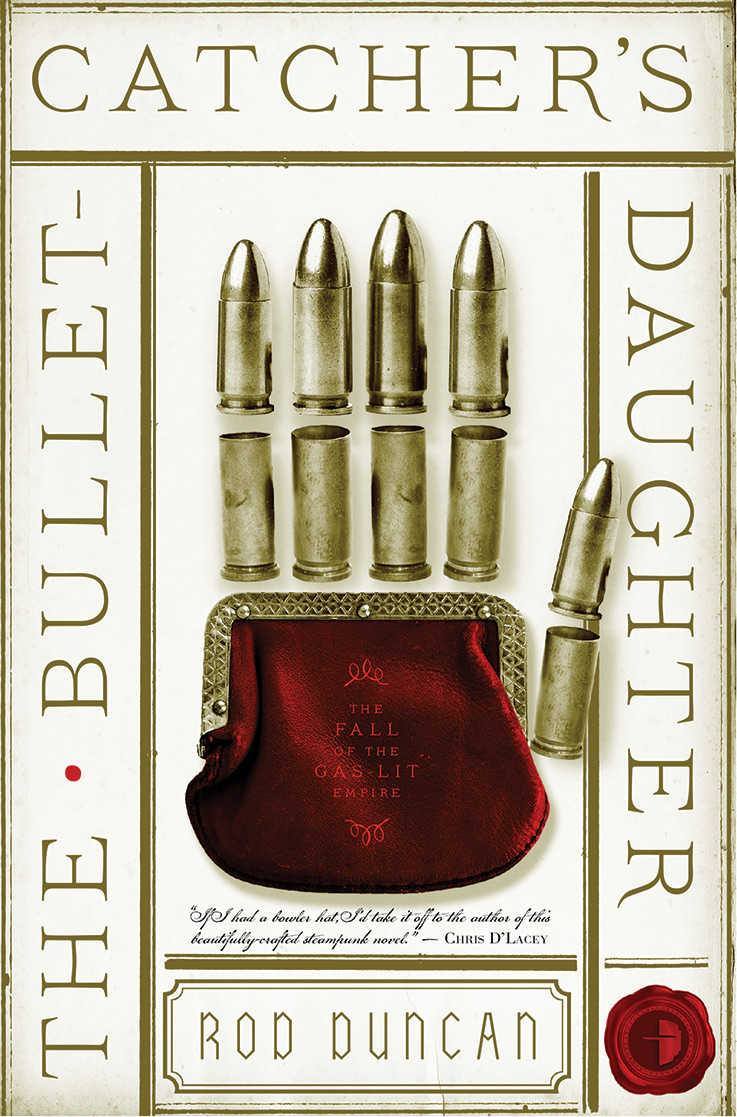 I have been especially impressed by Angry Robots' canny approach to harnessing their readers' passion for '
finding the good stuff'
and passing it on. On their website, they are recruiting a '
RobotArmy
' of reviewers and bloggers who can '
Take the Robot's Shilling
' and download
Advanced Review Copies
in exchange for an 'honest review' on sites which have their own established genre audience. (Loving the
BattlestarCylon
references btw in the red-eyed robot logo.) Recently I watched on Facebook as Rod Duncan's new Steampunk novel,
TheBullet-Catcher's Daughter
garnered dozens of reviews, interviews and blog tours months before the official launch. Gascoigne told us they only have 5 people working for Angry Robot, yet they have hundreds or possibly thousands of committed fans sifting and promoting '
the good stuff'
.
So the occasion for this fascinating industry speaker was a book launch of
TheBullet-Catcher's Daughter,
a new title by Angry Robot. The event was hosted by Leicester Writers' Club and the author was our own Rod Duncan, a long-standing member, previous crime-novelist and well-respected writing tutor. It drew the crowds who rose to the invitation for Steam-punk fancy dress with a gusto that would have endeared the boys from the
BigBang Theory
. Marc, who delivered an entertaining history of the new genre (
'Steampunk is what happens when Goths discovered brown
') turned up in the uniform of a Nerd. The rest of us sported hat-pins, airship goggles and scarlet brocade corsets. As ever, I'm grateful to Ambrose Musiyiwa for his photographs which captured the fun and the readers' rapture at Duncan's taster chapter. We snapped up copies, snaffled cake and not a one of us won't have learnt something about how to keep our readers close in the game of '
pass it on
.'