Like so many others this week, I have been mesmerised by
b/w photos
of a rough-hewn, two-headed rock drifting through the cosmos. The textured solidity of that mass, etched in scant sun-light, shadowed by space dark, is hyper-real in these images; snapped and dispatched back to us by some intermittent thread of a signal. And in the corner of the shot, a coat-hanger wire or an improbably shiny box like the receptacle for a magician's trick. The aluminium bug we landed on an ice bullet; two-leggedly gripping its alien surface. Or maybe not so alien for we may have time-travelled back to our own nursery. This primal landscape is apparently as it was soon after that whirling moment of slapdash cohesion that yielded our own solar system. It holds the secrets like some long-forgotten corner of the Tardis.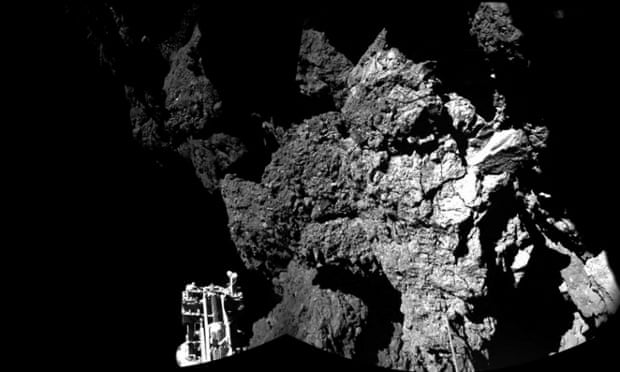 Beyond questions like 'how did we do it?' or 'why did we do it?' (for we are suddenly 'we', that ingenious restless species again) is the matter of how did someone even
imagine
this as a possibility?It took a quarter-of-a-century and a generation of scientific organisation and some cutting-edge technology but it started as a wild ridiculous laugh-of-an-idea in somebody's brain. I was addressing this very theme, as it happened, with
Leicester Astronomical Society
, in a talk/ performance on
The Men Who Raced to Space
on Tuesday. Quoting from my forthcoming book, I argued: '
Imagination was our first rocket; long before hydrazine or aluminium were invented, it lifted us into orbit
.'
I went on to observe how science-fiction seems to have been the nursery of rocket science, especially the stories of
Jules Verne
and
HG Wells
. Twentieth-century pioneers like the Russian
Tsiolkovsky
sketched out basic tenets of this new science in articles that directly responded to Verne's novel
From the Earth to the Moon
. The Transylvanian
Hermann Oberth
practically memorised Verne's novels as a child and the American
Robert H Goddard
corresponded with HG Wells, his childhood inspiration. The same was true for the rocket engineers who came after,
Sergei Korolev
and
Werner von Braun
. My
Ignition
poems explored how they fixed their gaze on the moon as children reading bedtime stories.
The Space Race adventure of the last century turned out to be a tale as chilling as it is thrilling. In the Thirties, it matures into the amateur rocket clubs Korolev and von Braun joined. Like
Big Bang Theory
Geeks
, they lapped up sci-fi movies and played with fire, setting off their stick-like rockets on wastegrounds with petrol-soaked rags. But then the Story Arc swerves into the murk of gulags and concentration camps, even as the revolutionary
V2 rocket
brushes the edge of space. And in the fifties and Sixties, the space race seems to be a sub-plot entwined in the more lethal
Cold War
narrative. The science never quite breaks free in this period of superpower vanity and posturing, some of it as deadly as the
Cuban Missile Crisis
- which literally displaced a Soviet Martian probe launch at
Baikonur
to get nuclear missiles battle-ready.
I must say the astronomers of Leicester, gathered in the Eggleston Suite of our
National Space
Centre
, proved to be the ideal audience. Together we mulled over von Braun's meteoric rise (more Teflon coating than a Tory backbench), lamented Gagarin's early demise, gasped at
Vostok 1
, shuddered at the Nedelin disaster, hurtled through seven decades of the Space Race and shared some superior biscuits. Their organiser, Ann Bonell, was kind enough to post the following review of my event:
'Superb presentation by Siobhan at Tuesday's meeting of the Leicester Astronomical Society. Wonderful mix of science and poetry. Very thoroughly researched material on the history of the space race combined with poems that really spark the imagination.'
Once again, here is that symbiosis of art and science. The
Astronomical Society's Facebook page
is relaying hop-by-jump accounts of the unfolding drama of the
Philae comet lander
. Like-wise the
European Space Agency
itself. And hats off to the ESA. Not only have they funded and marshalled an array of scientists to build the machine and track it for 10 years - not only do they manage to control its functions from this mindblowing distance - but they find a way to
communicate the mystery
and thrill of all this to a complete layperson like myself. And in those extraordinary photographs and in their cogent interpretation of grainy images, I find a buried poetry that just needs the scalpel of a writer's pen to tease it loose ...