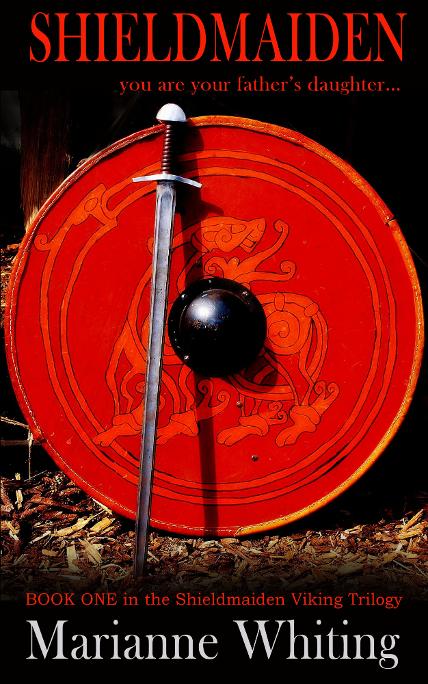 As a storyteller, I have always been fascinated by ancient legends - how different their shaping is, how their heroes don't 'learn lessons' or morality and yet how powerful these early narratives are. On a visit to Iceland some years ago, I stocked up on some wonderful
Viking Sagas
, packed with passionate characters rooted in real historical landscapes. My holiday reading currently shares a good deal of this territory. The heroine of
Marianne Whiting's
'Shieldmaiden'
is a contemporary of poet-warrior Egil Skallagrimsson and also fights at the battle of Brunnanburgh, though on the opposing side. Like
Egil's Saga
, this tale is unflinching in its depiction of war's chaos and the cruelty of kings. But Whiting's novel has a modern story arc charting the psychological development of its young protagonist
Sigrid
from her childhood through a bloody and difficult adulthood. The pacing of the narrative is astonishing; in just a few chapters we rush headlong from Sigrid's first crush, through an unhappy marriage, the violent dispersal of her family into exile and her experience of battle and its bitter aftermath. Fans of a rattling good story not short on gory detail, sparky dialogue and strong characters, will be as delighted as I was.
On her website Whiting reveals her excitement at realising that Viking history was one of the few periods when women could arm themselves and play a full part in adventures. Her heroine Sigrid is a gifted warrior, one of the fabled
'shield-maidens'
modelled on Thor's own Valkrye daughters. Yet she is much more than a swashbuckling, sword-wielding protagonist. Whiting conveys the full range of Sigrid's experience as a Viking woman living in the
Danelaw of Cumbria in 936
. She
'knows only too well that look of a man who has seen a woman he wants'
. At any time her family or king may decide to use her as a
'peace-weaver'
- to forge a politically advantageous marriage. Sigrid negotiates her options as a woman sometimes clumsily, sometimes with a hard-learned dexterity as the vulnerable daughter of a declared traitor. But Whiting also explores her joy in being a lover and mother as well as an increasingly assured leader of men, a
'ring-giver'
in her own right. She grows into a legend to match Egil Skallagrimsson, even if she is sceptical about how the reputation of warriors is exaggerated by the bards.
Equally I was impressed by Whiting's subtle but compelling handling of historical detail and landscape. I never once felt the author was 'showing' me some
carefully researched detail of Viking lives
. Rather we breathe the story through Sigrid's viewpoint and learn to take for granted as she does the Viking system of thralls and karls or bloody sacrifices to the gods, whilst 'discovering' the peculiar practices of Christians now challenging the 'old religion' of the Danelaw. This is what historical fiction can offer beyond the veracity of museums and textbooks - we step into the hand-stitched boots and turbulent emotions of a tenth century Viking woman. I think Whiting's novel benefits too from its
vividly-drawn Cumbrian landscapes
and recognisable place-names. You feel you could step off a twenty-first century train and hike your way back into Sigrid's world. The novel's sense of place is no less precise or rich in emotional context than the farmsteads and courts of the Icelandic sagas which in part inspired this Swedish author. Her blog makes clear that a sequel is in the offing and also reveals the original impetus for the novel was a vivid dream about her heroine that demanded to be written down. I for one am looking forward to joining Sigrid Kveldulfsdaughter on another Viking quest across the rugged crags of Cumbria or Norway. Meanwhile there's always the
VIKINGS TV series
to dip into while I wait for Sigrid's return ...