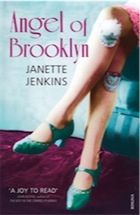 Are you looking for the ideal present for an avid novel-reader? Or maybe it's you that likes to snuggle into the armchair with a ravishingly good story that lasts for days.
'Angel of Brooklyn'
by
Janette Jenkins
didn't last many days because it was a page-turner that kept me up at night. This was one of the year's best-reads for me with its spellbinding story and beautiful prose. How are you going to resist a book with the opening line:
'A week before they killed her, Beatrice told them about the dead birds ...'
?
If you start with the promise of that line, you have to deliver a helluva story and Jenkins does. She's helped by a heroine who has emerged remarkably sane from a bizarre and lonely childhood. Glamorous yet good-natured, she's an American stranded in a Lancashire backwater just as the First World War breaks. Inevitably, her terribly English husband, Jonathon, abandons his new bride to sign up for the adventure in France. This leaves Beatrice to the mercies of the Anglezarke's small-town wives. You're rooting for her as soon as you hear one of them comment:
'You might speak English and have the same coloured skin and everything but it's the little things that turn you into a foreigner.'
Jenkins, like me, is a Bolton girl and knows her Northern landscapes. I loved her first novel,
Columbus Day,
set in my childhood summer haunt of Blackpool. But her writing has grown and
'Angel of Brooklyn'
is in another league. This is storytelling that simply doesn't put a foot wrong. She has captured convincingly the hushed world of an Edwardian village with its back-room grocer's shop and annual day-trips to Morecambe. But she has cunningly juxtaposed this with the strange home-life Beatrice endured in Normal, Illinois, with her amateur taxidermist father and would-be preacher brother. As the back-blurb says, Jenkins expertly mixes
'American Gothic with gritty Northern realism'
and it is an enchanting if disturbing concoction.
Birds flit through the novel, knitting narratives together. The stuffed birds of her father's kitchen-table. The migrating birds swooping over Anglezarke reservoir. And the angel wings Beatrice wore for her Coney Island show-girl act when she escaped to New York. The pre-war chapters begin as a list of
'Ten (or more ) True Things'
our heroine can reveal about herself to her English neighbours. But they open into a nightmarish account of her father's degeneration from obsession to lunacy. In between, the English chapters move us through the unfolding bitterness of wives damaged by the fall-out of 1914.
It only takes two years for all semblance of politeness to unravel. Jenkins expertly stitches these two narratives together to build to the tragedy implied in her opening line. The resolution doesn't disappoint but I was sorry to leave her heroine and both fictional worlds behind.